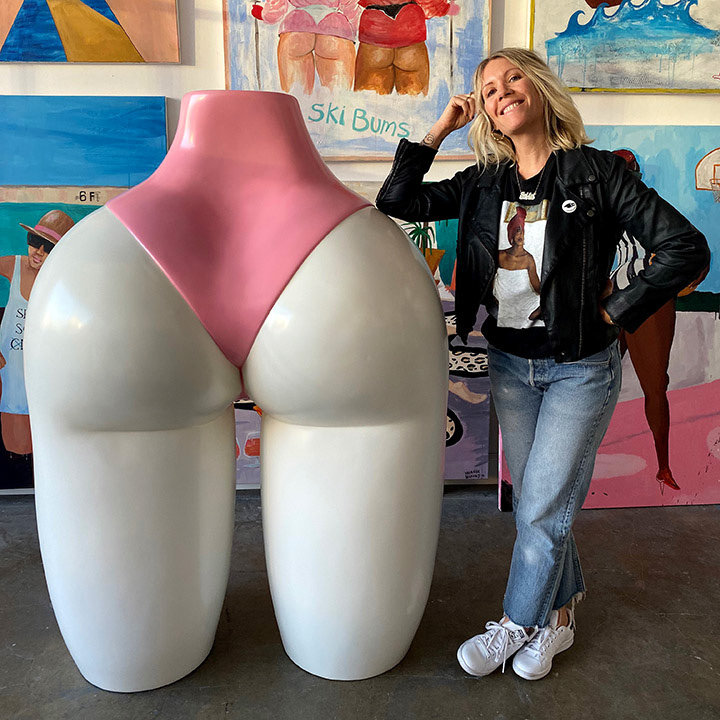 Meegan Barnes is a Los Angeles based artist and sculptor with a playful and empowering approach to the female form. Her work is bold and unabashed. It's feminine and feminist, it's got grit, and it's got glamour.
The sculptures straddle the line between art and craft by re-imagining iconic ancient artifacts through a lens heavily influenced by modern day pop culture. Her paintings are an extension of her illustration background and convey an irreverent humor through a female gaze.
Barnes' previous creative career in editorial and fashion, combined with a very influential 4 months in Brazil have all led to her current body of work. Her first jobs as an illustrator and designer for Paper and Vibe magazines solidified her fascination with pop culture and music. She then co founded and was creative director of lifestyle brand, Femme Arsenal. But it was upon returning from 4 months of surfing and painting in Brazil that set really the course for her art career. After Brazil, Barnes began working with clay and came up with her signature Booty vases for which she is most well known.
Her work has been featured in a solo show, Booteus Maximus at New Image Art in 2018 and numerous group shows at galleries including The New Museum, New Image Art, FIFTY24SF, The Lodge LA, MAMA Gallery & Stephanie Chefas Projects. She has been featured in publications including Vice, Paper, Juxtapose and Playboy. She has done collaborations with Axel Arigato and Opening Ceremony.